Nampaknya, kedua Midfielders iaitu
Michael Essien dan John Mikel Obi telah pun menjalani pra-musim training setelah keduanya cedera pada sesi World Cup lepas.
Mereka juga mungkin dah bersedia untuk memulakan kempen untuk musim terbaru Barclays League.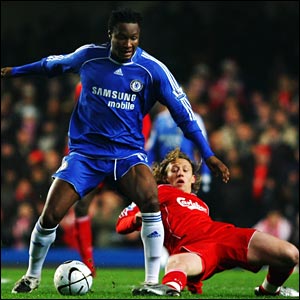 Bagi pemain full-back Chelsea, Juliano Belletti, akan terbang ke Fluminense. Pemain ini berpindah secara percuma setelah dilepaskan oleh Ancelotti pada akhir musim lepas.
Belletti akan menyertai Fluminense dengan mengikat kontrak selama 2 tahun. Belletti menyertai Chelsea setelah puas bermain di Barcelona pada 2007.
"The Brazilian, capped 25 times by his country, joined Chelsea from Barca in 2007 and went on to make almost 100 appearances for the London club over three years.
His career began at Cruzeiro before moving on to Sao Paulo, Atletico Mineiro and Villarreal.
Belletti sealed a transfer to Barcelona in 2004, his only goal for the club coming as he hit the winning strike in the 2006 Champions League final against Arsenal."